Bigfork Community Nordic Center (BCNC) is located on Montana State land at the corner of Foothills road & Jewel Basin Road.
Learn More
Located 8 miles above Lakeside and at 5000' of elevation, the 25 kilometers of varied terrain is groomed every day from December thru March.
Learn More
Welcome to North Shore Nordic Club
The North Shore Nordic Club is a federally recognized 501c3 nonprofit dedicated to providing quality groomed cross country skiing in the lower Flathead Valley. Now in our twelfth year, NSNC maintains over 30 kilometers at two trail systems: Foothills Nordic Trails in Bigfork and Blacktail Nordic Trails above Lakeside. In partnership with the Swan River Ranger District and the Department of Natural Resources and Conservation, NSNC is committed to continual improvement of both trail systems by expansion, reconfiguration of trails, and acquisition of the latest grooming technology. The North Shore Nordic Club does not require a trail pass, nor do we charge trail fees. We are ENTIRELY funded by individual and business donations, state and local grants, and volunteer efforts. Our expenses include a School Trust Lands lease, grooming equipment and its maintenance, liability insurance, and two paid grooming employees. Our continued success would not be possible without the generous contributions of our skiers and our community. View our donations page to learn how you can help. Thank you!
North Shore Nordic Club News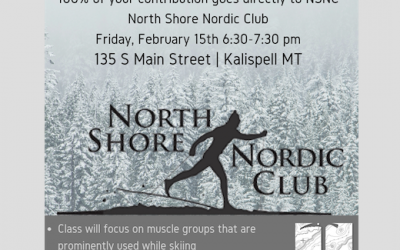 Rocky Mountain Outfitter & Flourish Yoga will be offering a "Yoga for Skiers" class tonight, 2/15 from 6:30-7:30 at RMO. Karina Ek, certified yoga instructor will instruct the class. All proceeds will be contributed to NSNC. Call 406.212.1958 to...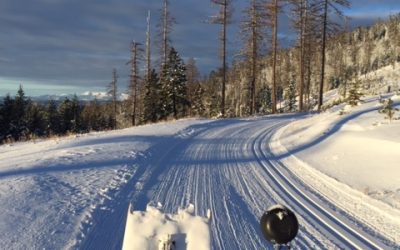 Grooming is progressing nicely up at Blacktail and all 30K of trails should be accessible soon! The 4-5 inches of snow on the Bigfork Community Nordic Center trails were rolled for the first time yesterday, packing out to a 2″ base. We'll need a few inches...
Now, please, start snowing. As you know, the snow has been accumulating slowly below 5000′, but Winter has been ushered in by the Solstice and we all can hope that it begins to pile up. NSNC will open up more K as soon as we are able. Happy Holidays!
Blacktail Mountain Nordic Trail Updates
@ 8:45 it's 35° & light rain I was able to groom and set track to the turn around on the powerline trail then pulled the plug
Bigfork Community Nordic Center Updates
Attention Classic Skiers….want one last day of skiing in a nice track?? Come on out this morning, I picked up all signs yesterday afternoon and the trail was soft enough that I lowered the track setter. Track is around most of course (Birch Loop and Blackfoot...